Client-Centered Communications
The reader.
That's who you are writing for.
Sure, you have a story to tell, but if your readers see no connection to their own needs and interests, your narrative will sit untouched like a bowl of steaming chili on the Fourth of July.
You need clear, concise, jargon-free content that connects with your audience (clients, donors, alumni, grant funders, buyers, students, social media followers — any readers, really), and I can help.
50 Words About Me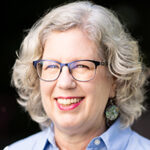 I am a seasoned writer/editor with 25 years of experience producing compelling copy and contributing to a broad range of print and online publications. I spent the past 17 years as a communications professional with the University of Virginia's Curry School of Education, where I amassed experience in development, alumni relations and academic publishing fields — all focused on topics related to education and human development.
Now Back to You
Here is a sampling of services I can offer that will help you connect with your audience:
Produce books, magazines, academic journals, and annual reports
Write articles, profiles, newsletters, print and web copy, fundraising appeals, and stewardship letters
Manage your publication
Edit your book
Copy edit or proof your scholarly paper or dissertation (APA style)
---
Check out my new book! Man of Sterling Worth: Professor William A. Saunders of Storer College